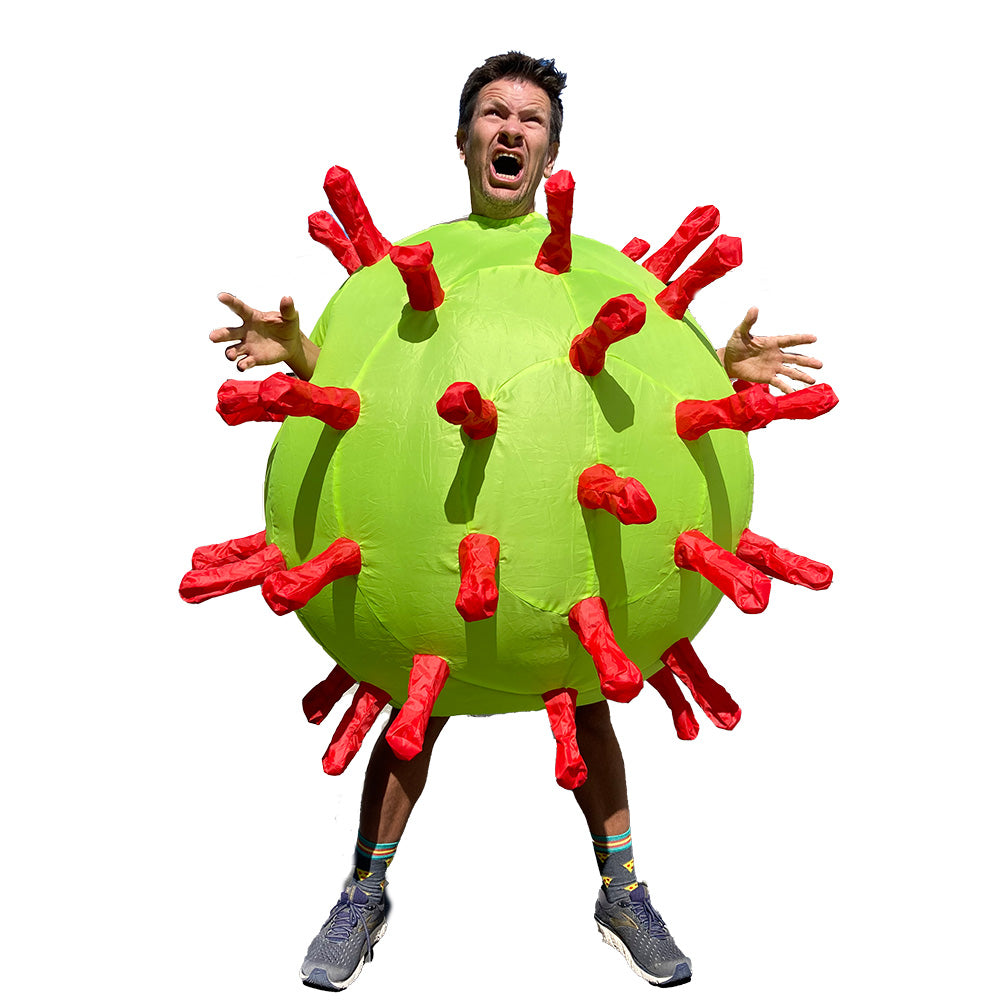 This costume is going viral!  The perfect companion costume to our Inflatable Hazmat Suit!  If this last year had an official mascot, this would be it!  The smiles and laughs you get from this limited edition costume will be infectious!  


 Fits people 4' to 6'6" tall
Small fan keeps costume inflated.  Requires 4 AA batteries or can be powered with any USB power bank.
Shipping
Orders typically ship within 1 business day M-F (Usually same day before 12pm pacific time).  All shipments originate from California. Shipping times are only an estimate,
we can't guarantee exact arrival times
.  If you have a time sensitive order, choose an overnight UPS option which is guaranteed.  Typically the closer you are to California, the faster you can expect it.  Some orders may require a signature, check your tracking information carefully. 
We ship Mon-Fri so if you choose overnight on a Friday before noon for example, it will not arrive until Monday!  Please click here for detailed shipping information.

International shipping 

We ship to most international locations.  Goods in stock at the time of order will be shipped in 1-2 business days from receiving the order. USPS First Class International is not recommend if you want your order quickly.  Rechargeable Batteries can not be shipped via DHL.  **Please note that additional customs delays, charges and taxes can apply for imports**. Glowy Zoey has no control over these taxes and it is customers whole responsibility to comply with local customs regulations. Please inform yourself about customs policies and rules in your country. Any international returned shipment customers can be charged a return fee in case of non-compliance to local customs regulations.
WARRANTY

LED Stick Figure Suits: In the unlikely event any part of the LED system fails (LED, controller, battery box, connectors, etc) under normal use within the first 180 days of purchase, we will send out a replacement part free of charge. Depending on the part, you may need to send it back to us first or in some cases, simply provide a photo of the issue. If a customer needs a replacement part because they broke it, we will provide one at a discounted rate.  We want you to stay bright so we make the process really easy.  We are a family run small business, no crazy hoops to jump through.

All other products: 30 day guarantee from the date of delivery.  We want you to be happy with your purchase and will do what it takes to take care of any issues for you!
Returns can be made through our return portal here (US orders only).  Please read the information below before requesting a return through the portal.  International returns can't be made through the portal.  Please contact us if outside the US.
We want you to be totally happy with your purchase so if you are not satisfied with the items in your order, go ahead and send them back to us (after contacting us first) within 14 days of receipt for a refund (less our shipping costs and any restocking fees).*   Read restrictions below.
You are responsible for return shipping fees unless there was an error with your order.  Opened items may incur a 15% or greater restocking fee.  Any claims of missing parts must be made within 3 days of delivery.  Any returns of BOGO offers must include all items in the BOGO deal.

Costumes and accessories purchased between 9/15 and 10/31 can only be exchanged or returned for store credit. Requests must be made within 3 days of receipt.  If you are worried about an exchange not arriving in time, you can go ahead and purchase the size you need and we will refund you for the wrong size when you send it back.  Just let us know before you make your order.
*Our voice activated cloth masks and mask hoods can not be returned or exchanged for safety reasons.

Returns and exchanges will NOT be accepted for any item that does not have an RMA #, has been used, worn, altered, is missing items, covered in pet hair, smells of smoke, damaged or covered in killer bees. Lights must be in their original bag and/or box and not left on the clothing.  If a return is accepted despite it not meeting our guidelines, a restocking fee may be applied.   We do not cover return shipping costs for international exchanges.
Returns must be postmarked within 3 days of issuance of RMA#

If you need to make a return or exchange, please use our portal here.  If you have any questions, please email support@glowyzoey.com

Returns must be sent to:
Glowy Zoey Returns
21562 Newland St
Huntington Beach, CA 92646

You should return the item(s) through a traceable shipping method to the address above (this is automated through our return portal). If you return the item without the ability to track the delivery and we don't receive the item, we will not be responsible for refunding the order or making an exchange.  Write the RMA# on the box and on a note inside the box.  Do not forget this step or your return or exchange will be delayed.

Upon receipt of the returned product, we will fully examine it and notify you via e-mail, within a reasonable period of time, whether you are entitled to a refund, exchange or replacement. If you are entitled to a replacement or refund, we will replace the product or refund the purchase price less our shipping cost, using the original method of payment.  During the Halloween season (10/1 to 11/7), this can take up to 4 weeks.  Exchanges will be sent out within 1-2 business day of receipt.
Covid costume!
Received the costume and it's exactly as shown, I'm average size and it fit perfectly! Prob better for average to thin people.
The purchase was a gift for my sister and although she initially recieved compliments at the hollween party about the idea and concept. She also was unable to use it as intended as she complaint of it being too tight around her neck and it had to be deflated to prevent further issues. My sister is moderetly overweight and with a history of asthma the the costume sadly was not the best fit.
Won Costume Contests!
Everywhere I went people asked if they could take a picture. I won 2 costume contests. Fantastic costume, my idea, but the only place I could find it.
Covid was never so popular
Great outfit! Came in quick.. minimal set up.. worked great.. everyone that say it knew instantly what I was.. lots of laughs and fun.. highly recommend
Worth the money, but larger people watch out.
First all, the price, quality delivery, and look of the costume was great. It was exactly what I needed, and I won second place in a 'Fun Run' costume contest.
However, there were issues (which I was fully expecting, so I stand by the 5 star rating.)
I'm a mutant. 6'1" and right about 300 pounds. 54 inch waist. Pear shaped as pears come.
I could get into the suit *very carefully*, sliding it up an inch at a time to get past my belly, so I didn't blow out the zipper. The other problems were that the armholes were uncomfortably tight, but I couldn't fit my legs past a quarter-way up my thigh.
I have some sewing skills, so I was able to fix these. If you go this route, I recommend that you make sleeves similar to the regular design (using elastic bands) with a similar lightweight nylon fabric. I went with a spandex sleeve, which was great for the fit, but spandex is a fairly porous fabric, and the fan wasn't able to keep it fully inflated. I actually used small, long, red balloons inside the 'spikes' so that they would stand out better, and the fan kept the main suit inflated better (which might be a good way for anyone to make the spikes sticking out better for anyone).
I love the outfit, but if you are a bit outside of normal size ranges, you might have to spend some time in front of the sewing machine.